Schedule
From Nutcracker Wiki
This page is still under development.
Schedule

Defining a Schedule
The Schedule tab is used to define schedules if you are going to use a PC/MAC and xLights/Nutcracker to run your show. Prior to using this function, you must have defined at least one playlist via the Playlist function.
Use the Change button next to the Show Dates label to select the Show Start and Show End date ranges for your show. The date selected will then be copied to the left panel.
Select the Playlist from the Playlist drop down window

Select the start and end times, the date or dates this schedule is applicable to and other attributes as required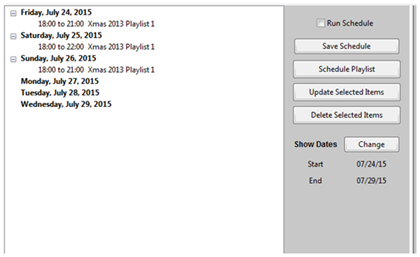 You can specify different schedules for different dates in your date range.

As an example, to create a different schedule for the weekend, repeat the steps above and select say a different end time for the Saturday and Sunday.
Save each schedule.